Real Madrid 2-0 Getafe: Rotating works in comfortable win
Real Madrid beat Getafe with two goals by Casemiro and Lucas Vazquez at Bernabeu, in matchday 31 of La Liga 2021/22.
Carlo Ancelotti rested Carvajal, Kroos and Modric, while putting Camavinga, Valverde and Rodrygo in the starting XI.
With the rotation, the Madrid club still had one of their best games this season as they were the absolute best side (68% possession, 8 shots, 2 goals).
Vinicius Jr.'s trivela assist was too good for Casemiro to miss at the 38th minute with a flying header. The second goal came in the second half, and it was a calm finish by Vazquez, after the link with Rodrygo.
It was an easy 3 point for Los Blancos with a near perfect performance. More importantly, they are more than ready to face Chelsea in the 2nd leg of the Champions League's quarter final next week.
Levante 2-3 Barcelona: Madness with 5 goals and 3 penalties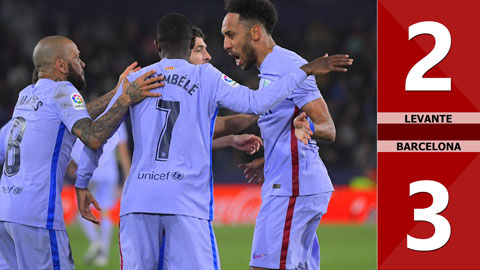 The visitors looked to extend their 14-unbeaten, when their opponent is 19th-place Levante. However, it was not easy as it had looked.
Two teams were held tie for the first half, but things totally exploded after the break.
Levante was given 2 penalties in only 2 mins. Dani Alves and then Eric Garcia's hand punished by 2 shots in the 6-yard box. But only Luis Morales scored the opener, while the second by Roger was stopped by Ter Stegen.
The Barca equalizer came in the 59th minute, Aubameyang's header was too powerful to stop as Dembele provided his 9th assist this season in top 5 league in the calendar year of 2022.
The game only went from wild to wilder, when Pedri came off the bench and took a shot to bring Barca the lead in the 63rd minute.
Late in the game, Lenglet's clumsy tackle cost Barca the 3rd penalty, and this time, Melero made no mistake to make it 2-2.
But when things seemed to finish, Luuk de Jong scored an emphatic winner with a header in the 93rd minute, Jordi Alba's assist was stunning, too. This is the Dutch's striker 4th goal scored in the 90th minute or in the extra time for Barcelona.
Barca hold firm at the 2nd place with one game to play and same points with Sevilla.