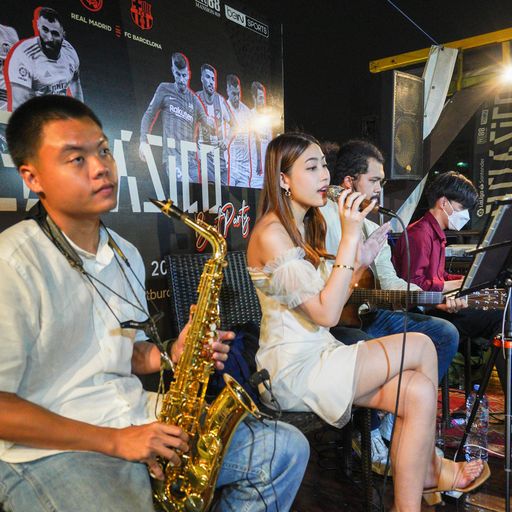 Spain's premier football league regional partner M88 Mansion provided a LaLiga Experience that they only can have. Asia's largest online casino sent select fans of Real Madrid and FC Barcelona to a private dinner cruise around Chao Phraya on March 18, three days before their respective favorite clubs collided for another staging of El Clásico. 
La Liga fans, together with special guests and media representatives, were aboard a Sabai Cruise yacht to traverse Bangkok's major river for several hours. They boarded at the Sabai Cruise Rat Burana Dock starting at 4 pm and alighted at the same location at 9 pm. 
Activities abound during the cruise, from games and raffles, to live music and a buffet dinner. Prizes include M88 Mansion and La Liga merchandise and accessories, as well as a dinner cruise and a trip to Phuket.
Football analysts and experts Nat and James Laliga were also on hand to talk about the then-upcoming match. 
Cruise passengers take in a view of Bangkok from a different perspective
The route took the passengers to some of Bangkok's top attractions, including the Shangri-La and Millennium Hilton Bangkok hotels, as well as Wat Prayun, Wat Kalayanamitr, and Wat Arun. Other landmarks the route passed by are Phra Sumane Fort, the Grand Palace, Rama VII Bridge, Santa Cruz Church, and ICONSIAM.
This amalgamation of tradition and modernity makes Thailand and it's the capital city a major tourist destination. This is convenient for backpackers as famous sites are near urban centers and could be easily visited using regular public transport. 
Wat Prayun, or Wat Prayurawongsawat Worawihan, is a 19th-century Buddhist temple complex located near the Memorial Bridge in Thonburi. The temple was built during the reign of King Rama III, who was the king of Siam from 1824-i1851. 
Meanwhile, Wat Kalayanamitr, also known as Wat Kanlayanamit Woramahawihan, is also found in Thonburi. It was donated by Chaophraya Nikonbodin to Rama III near the start of his reign.
Wat Arun, whose complete name is Wat Arun Ratchawararam Ratchawaramahawihan, got its name from the Hindu god Aruna, the charioteer of Surya, the sun god. The temple is in Bangkok Yai district in Thonburi and is considered one of Thailand's most famous attractions. 
Santa Cruz Church is a Catholic church that stands out among Buddhist temples in Thonburi. Built-in the late 1770s, a new structure was constructed at the same site in the early 1900s. 
Phra Sumane Fort is one of about a dozen forts that used to defend and guard the city during Rama I's reign. Built-in the 1780s, it stands as one of the few reminders of Bangkok's military prowess in that period. 
The Grand Palace is where the Thai monarchy currently resides. Rama VII Bridge is a modern roadway that was built in 1990 and connects Bangkok and Nonthaburi.
Finally, ICONSIAM is a commercial complex that opened in 2018. The main building and its annex are considered one of the largest shopping malls on the continent. 
Blaugrana win over Los Blancos
FC Barcelona won for the first time against Real Madrid this decade, blanking their rivals, 4-0.
For more updates on the partnership between M88 Mansion and La Liga, visit their websites.