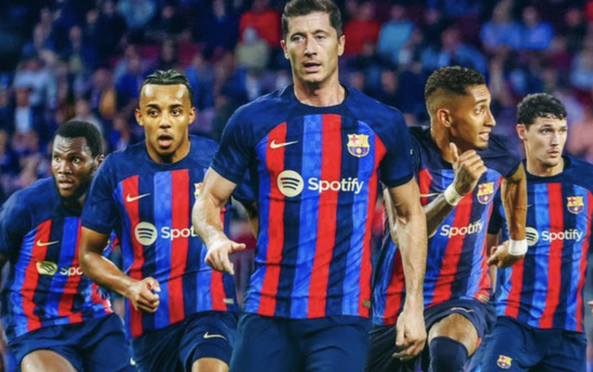 Barcelona is having a very productive transfer window of Summer 2022 with profound signings.
The Catalan club is showing the top level of determination this summer, as they have brought in quality reinforcements for different positions.
Let's take a look at who has joined Blaugranas so far.
153m euros for 3 signings
Meme is everywhere on social media. Barca has spent 153m euros on THREE signings while spending 160m euros for the flop Philippe Coutinho all alone…
Robert Lewandowski: 45m euros from Bayern Munich
Jules Kounde: 55m euro from Sevilla
Raphinha: 58m euros from Leeds United
Madness! That's the word for every football fan after they look at those 3 signings that Barca got.
Kounde and Raphinha are definitely hijackings the season from Barca.
Chelsea and Arsenal already made bids, £55m and £35m, respectively, for the 25-year-old winger from Brazil. While Sevilla received and was on the verge of accepting the £55m bid from Chelsea for French defender Kounde.
Barca jumped very late in and just like that, they got their men miraculously.
Meanwhile, Lewandowski rejected all offers only to say yes to putting on Barcelonzkit.
2 free transfers
Andreas Christensen: Free transfer from Chelsea
Franck Kessie: Free transfer from AC Milan
It's actually a matter of time before Kessie and Christensen arrive at Camp Nou.
The pair already agreed on personal terms with the La Liga club from last season; however, the financial status prevented the club to sign them.
While Kessie is bringing strength to the midfielder, Christensen is an absolute one to boost the defense.
How Barca managed to sign so many?
It was thought that Barca has been in deep financial trouble. But it seems to be the totally opposite situation, as new players are coming.
Joan Laporta has turned things in a way that works very well for his club, among which was the sale of TV rights.
Barcelona has sold a further 15% of their domestic television rights to the global investment firm Sixth Street, the club announced on Friday, with sources stating that the deal is worth around €320 million.
Even La Liga chief Javier Tebas has to admit that Barca is going to work things the right way:
"Barcelona is on the right track to register all of their signings, though there is some work to do. They know the rules well, and they still have to do it, but there is time."