Real Madrid beat Barcelona in the first El Clasico of La Liga 2022/23, at Santiago Bernabeu by 3-1 on Sunday to return to top place of the standings.
Karim Benzema, Fede Valverde and Rodrygo fired for Real Madrid while Ferran Torres pulled one back for FC Barcelona in the first El Clasico of La Liga 2022/23.
The win helped Los Blancos leapfrog Barca at the top of the table with 25 points from nine games, leaving Barca behind by three.
Benzema – the show of the newest Ballon d'Or winner
The French talisman played his best game since his return from injury and proved that Carlo Ancelotti made a right decision by resting him earlier.
As reported by Marca and AS, the 2022 Ballon d'Or is Benzema's and he's flying to gala after El Clasico just to claim it, no doubt he provided such a performance.
Benzema's goal came after Vinicius Jr beat the offside trap and saw his shot blocked by Marc-Andre ter Stegen. Real Madrid's captain took the rebound and it was deflected by Sergio Roberto's foot before hitting the back of the net.
Alejandro Balde was partly the one to blame as he ruined Barca's offside trap, but it was Toni Kroos' effort that set up the opening goal.
Fede Valverde doubled the scoring for the host with his low long-range shot after Ferland Mendy found him. It was a day to forget for Barca's defend as both Benzema and Valverde were totally free of challenge when they scored.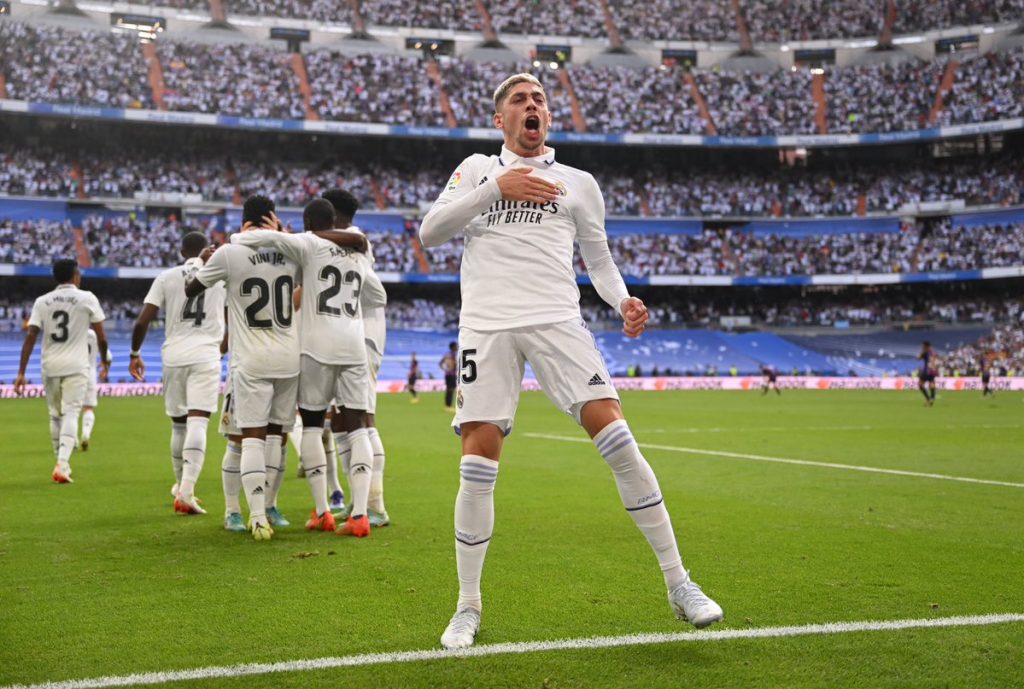 Blaugranas pushed to strike back, but David Alaba and Eder Militao were too good at the back four of the host.
After the break, Ansu Fati came on and brilliantly set up for another sub, Ferran Torres, as the two substitutes combined to get one back.
However, the hope collapsed moments after it was on, when Eric Garcia fouled Rodrygo inside the penalty area. The referee did not think it was a foul by the Spanish defender, but his VAR checking said the opposite.
Rodrygo stepped up and ended it with a 3-1 win for Real Madrid.
The current standing of La Liga 2022/23
Prior to this game, Barca and Real Madrid both remained unbeatable after eight games. The Catalan club sat on top as they were superior by goal difference.
The victory at Bernabeu was crucial for Los Blancos, not only for them to take back their place, but also a statement of who would be in charge and who is still the reigning champions.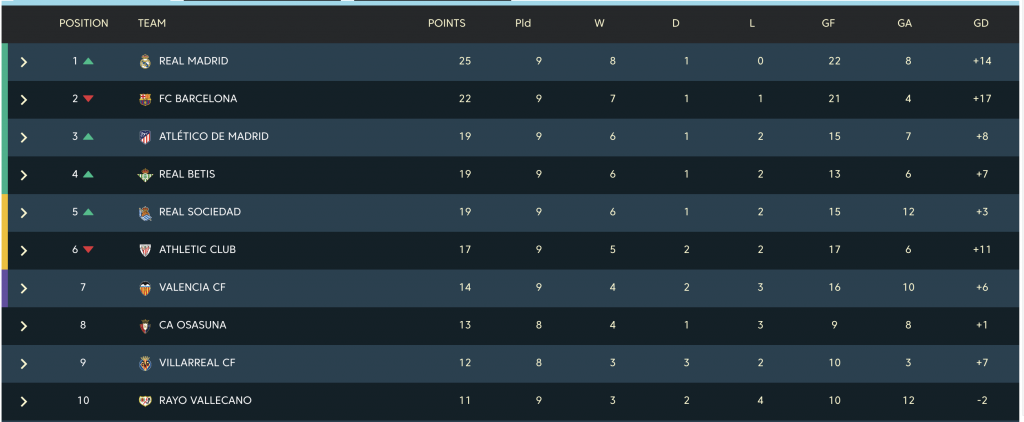 With this result, Real Madrid is the only team to remain the perfect streak of undefeated, while Barca suffered from their first defeat this season of La Liga 2022/23.
It was a week of disaster for Xavi and his team, they are facing the worst scenario of playing at the Europa League after Inter Milan's draw earlier, and now is the El Clasico's defeat.
Read the latest storylines of La Liga news today
Check the best M88 Mansion x La Liga offer