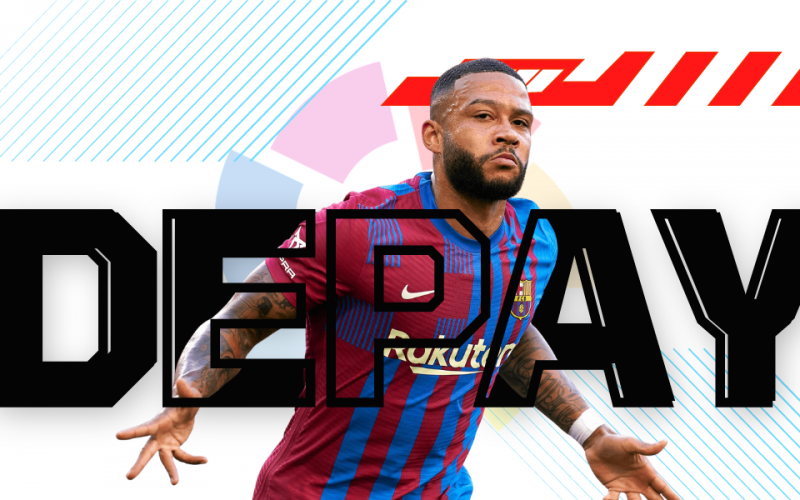 MEMPHIS DEPAY
Memphis Depay LaLiga Football Career
Position: Centre-forward
Age: 28 (born in 1994)
Nationality: Dutch Club: Barcelona from 2021
Kit number: 14 (latest)
International career: 80 caps/42 goals
Began his professional career with PSV Eindhoven under Philip Cocu, Memphis was known as a scoring machine, with very tough personality and equipped with skills.
He managed to score 50 goals in 124 games across all competitions for the club. The breakthrough season was 2014/15, Memphis bagged 22 goals in 30 games and earned the team's first Eredivisie title in almost 10 years.
Among Memphis's best moves are the pace and tricks that help him cut from the left winger to the right and finish with his strong right foot.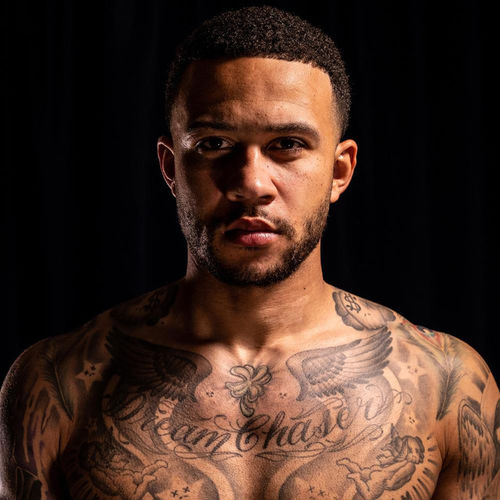 That year also saw Memphis won Best Young Player in the world by France Football. And another brilliant show at the World Cup 2014 earned him a 25-m-pound move to Manchester United.
Little that Depay knew, that the move to the English club would be a huge disappointment.
The 28-year-old forward made his debut on 8 August as the season opened with a 1–0 victory over Tottenham Hotspur at Old Trafford. It did not take him long to open the goal accounts with two goals on 18 August in a home victory over Club Brugge in the first leg of the Champions League play-offs. The league debut goal came later on 26 September, as Man united beat Sunderland 3-0 at home, the victory that put Red Devils on the top of the league for the first time in 110 weeks.
From that point, things got from bad to worse for Memphis. There were less goals and more complaints from him, and even more time on the bench than on the field. There were even claims that Memphis's own flashy lifestyle made his poor form despite having given number 7, one of the most iconic ones of the club.
Following his early struggles in the Premier League, Memphis told Dutch newspaper De Telegraaf, "There are a lot of games in Manchester. There are very few rest days and on training days you are mainly concerned with recovering. It's heavy, two games a week, always at a high level, and my body has to get used to that".
Memphis made only four appearances (all of them as a substitute) and had a total playing time of just 20 minutes in the Premier League during the 2016–17 season. He never got to finish his 4-year-contract with Man United.
On 20 January 2017, Memphis signed a four-and-a-half-year deal with French club Lyon which would tie him to the French club until the summer of 2021.
Memphis' career got lightened up again on the Ligue 1's side. He scored 63 goals in 139 games for Lyon, helping them eventually reached the semi-finals for the second time in their history since 2010 after defeating Manchester City in 2017/18 season. He then departed from Lyon in 2021 to join La Liga's side Barcelona up till now as a free-agent with a 2-year contract. According to his grandmother, since the age of four, he had been aspiring to be a player for Barcelona.
At the Catalan club, Depay scored 13 goals (12 in La Liga, 1 in Europa League) in 37 games.
National team career
A product of the Royal Dutch Football Association (KNVB) institution, Memphis has represented the national team at every professional level from early developmental stages under the tutelage of iconic Dutch coaches and players alike.
He was part of the Netherlands under-17 team which won the 2011 European Championship. He made his senior debut in 2013 and the following year was part of their squad that came third at the 2014 FIFA World Cup, where he made his breakthrough performances on the international stage. He also took part in UEFA Euro 2020.
Links:
https://laligaupdate.com/laliga-clubs/barcelona/