Barcelona 1-0 Atletico Madrid – La Liga 2022/23 Matchday 30 result, as Ferran Torres scored the only goal at Spotify Camp Nou to end Los Colchoneros winning streak.
The win moves Barcelona 11 points ahead of Real Madrid with eight games left to play.
Aside from three valuable points and an end to the previous goalless run, Blaugrana are the first team in the history of the top 7 European leagues to concede less than 10 goals in their first 30 league matches.
SIGN UP ON M88 MANSION TO GET YOUR LALIGA FIX WITH A SINGLE CLICK!
Barcelona 1-0 Atletico Madrid – Highlights
After back-to-back league draws, Barca finally returned to their winning ways with a crucial 1-0 victory over a on-form Atletico Madrid.
Barca had their possessions, but it was the visitors that almost came close to score the opening goal.
Former Catalan club striker Antoine Griezmann was so close to put his new side ahead early on, only if his attempt from outside the box did not strike the underside of the crossbar.
Diego Simeone's side threatened Marc-Andre ter Stegen again with Angel Correa's strike to force the Barca keeper into a save.
The host fought back after having very few chances to threaten Jan Oblak, but they proved to be more crucial when it came to score.
One minute before the break, Rapinha paced to the left side and played a pass into the middle to meet Torres, who struck into the bottom right corner and broke the deadlock.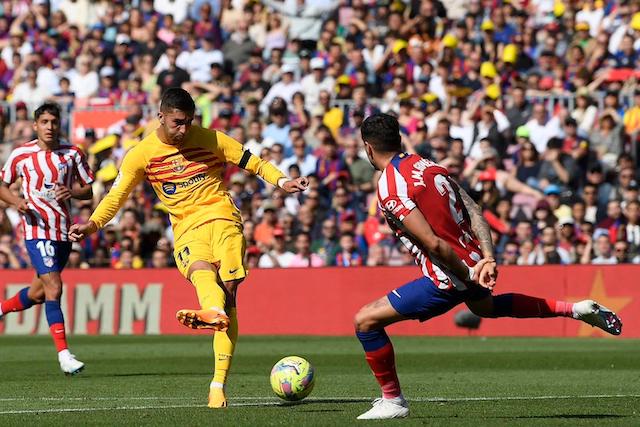 In the second half, the home side pushed to double the lead, but Raphinha and Gavi could not score despite coming close.
The golden chance to end it all belonged to Robert Lewandowski who selfishly went for goal but missed the target with Raphinha in space and totally free to aim for an open goal.
Fortunately for the Polish, his side stood solid and secured the tight win until the final whistle.
11 points clear at the top of the league table
Not their best game, but the Catalans had what they wanted: three points, extend the lead atop of the standing, and a win that ended consecutive draws.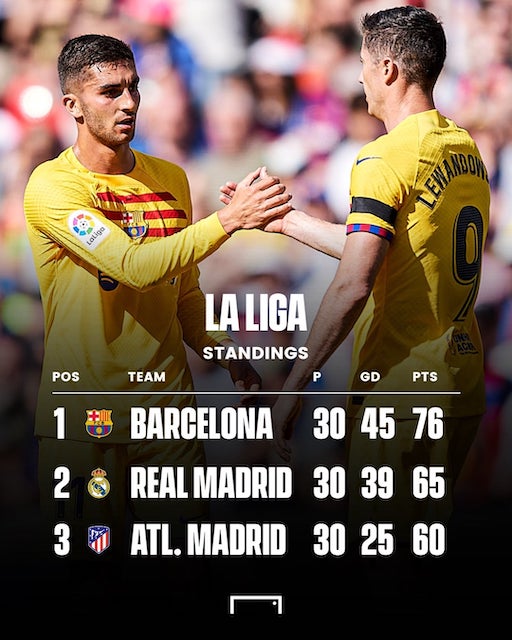 The unbeaten streak at Camp Nou against Atletico now standing at 17 matches (W12, D5) since back-to-back defeats in 2005 and 2006.
Xavi has now won all three of his LaLiga games against Atletico, only the second coach in Barcelona to hit that achievement after Luis Enrique.
Another bad day for Lewadowski
He missed an open goal with Raphinha ready to tap it in at the 76th minute, and it will be no surprising at all if the whole social media are talking about that right now.
The year has not gone well for the striker thus far, having only been involved in six goals in 11 games in 2023 (four goals, two assists) compared to 17 goals in 15 LaLiga games in 2022 (13 goals, four assists).
Lewandowski has failed to score on 9 of his last 10 opponents for club and country. The last opponent he scored on was 20th place Elche
Next up for Barca
Barcelona travel to face Rayo Vallecano on Wednesday in hope to extend or at least, maintain the 11-point gap with second place Los Blancos.