La Liga 2022/23 Matchday 34 fixtures as Barcelona could win the league at Espanyol if they emerge as the winners of the Catalan derby – Derbi barceloní.
Let's take a look at the fixtures of this weekend and analyze scenarios to welcome the new king of the Spanish top flight.
SIGN UP ON M88 MANSION TO GET YOUR LALIGA FIX WITH A SINGLE CLICK! 
La Liga 2022/23 Matchday 34 fixtures
*GMT+8
Elche vs Atletico Madrid – 22:15 14 May 2023
Real Valladolid vs Sevilla – 00:30 15 May 2023
Espanyol vs Barcelona – 3:00 15 May 2023
Real Betis vs Rayo Vallecano – 3:00 16 May 2023
Real Madrid vs Getafe – 3:00 14 May 2023
Celta vs Valencia – 20:00 14 May 2023
Mallorca vs Cadiz – 3:00 13 May 2023
Sociedad vs Girona – 20:00 13 May 2023
Osasuna vs Almeria – 22:15 May 2023
Villarreal vs Bilbao – 00:30 14 May 2023
Barca could win the league at Espanyol, If…
A win on Sunday would secure the title as it is looking very very likely that Sergio Busquets can lift the trophy at his final season with Blaugrana.
It's matter of time for the last five games to see Barca eventually win the league, and if they can do that in the Derbi barceloní against Catalan rival Espanyol, that would be even better.
26 wins, 5 draws and 3 defeats, and more than 10 points gap with 5 games to spare, the 2022/23 season is special and fully deserved for Xavi's side.
But here is how they can win the league, even without having to beat Espanyol at the weekend.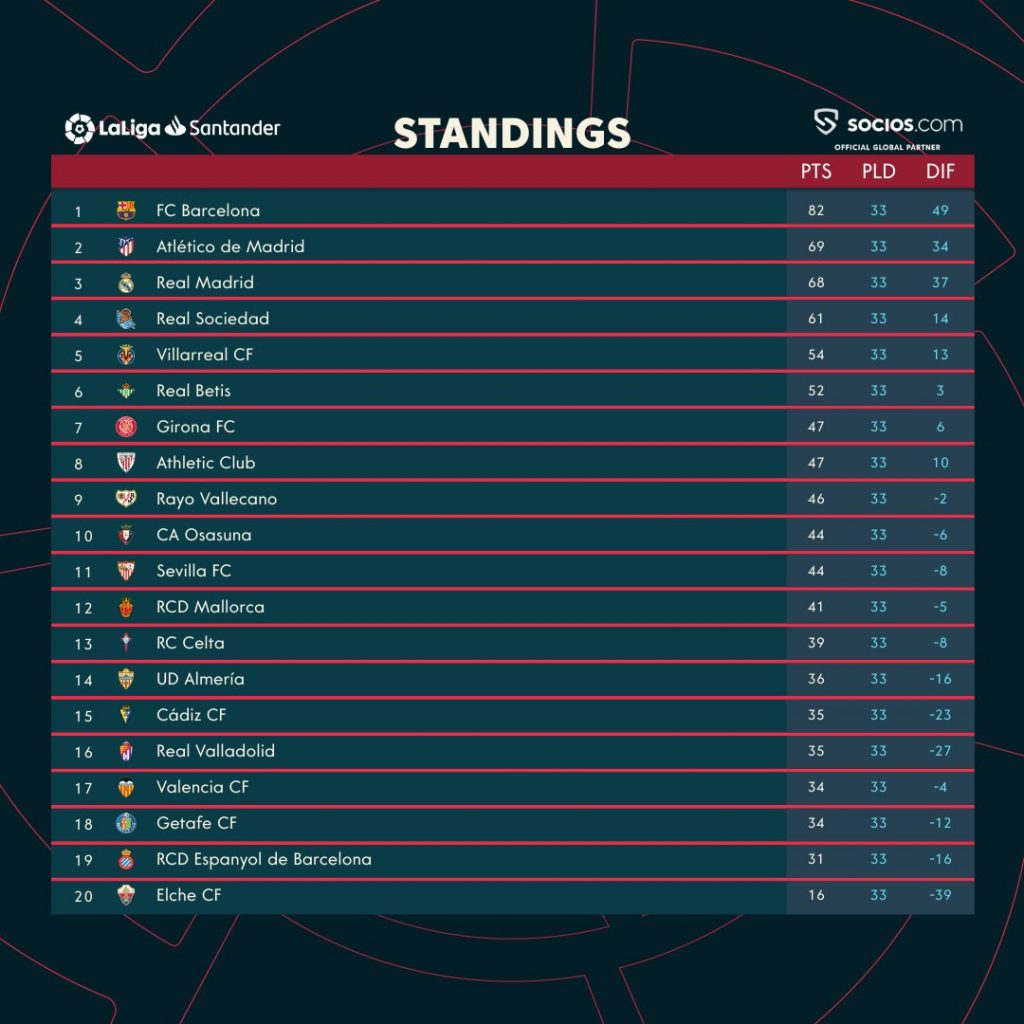 Atletico Madrid and Real Madrid both lose
If neither of the direct competitors from Madrid fail to collect points, Barca will win it before setting foot in the RCDE Stadium Cornella.
Los Blancos, who scored four against Almeria last week, will play the earlier game against bottom-side Getafe on 14 May, while Atletico will be visitors at Elche a few hours later.
Provided that Carlo Ancelotti's side lose, they are out of the race, but if Los Colchoneros beat Elche, then the second-place team to draw some slight hope to chase after Barca. But if Diego Simeone's side lose and even draw, it's done, Barca will win the league.
Barca beat Espanyol
In that case, results from two Madrid clubs have no effect, Barca will be confirmed La Liga champions with three points at Espanyol.
If Xavi's side get beaten, and both Madrid sides win their games, the scenarios will be repeated exactly the same.
So, Barca has the upper hand to decide for themselves.