It was an absolute scene at the Mestalla with almost the whole stadium chanting 'mono' – 'monkey' to the Real Madrid star
La Liga – Vinicius Jr in tears after the Real Madrid star was racially abused by Valencia fans at Mestalla with the ultras could be seen shouting 'monkey' during Matchday 35.
SIGN UP ON M88 MANSION TO GET YOUR LALIGA FIX WITH A SINGLE CLICK! 
What happened with Vinicius Jr – Valencia ultras abused the Brazillian
It was chaos at Valencia's Mestalla stadium, with all Real Madrid and the home side players rushed to the scene and police also arrived to ensure it was all in controlled.
Los Blancos was being trailed by Diego Lopez's first-half goal and Vinicius was subjected to more discriminatory comments and actions from the stands.
The Brazilian did not hide his anger as he heard racist insults and came to point out the sources of the noise.
He also let referee De Burgos Bengoetxea know before he went to talk to Ruben Baraja and the field delegate so that they could broadcast the message from the Mestalla public address system against the racist insults.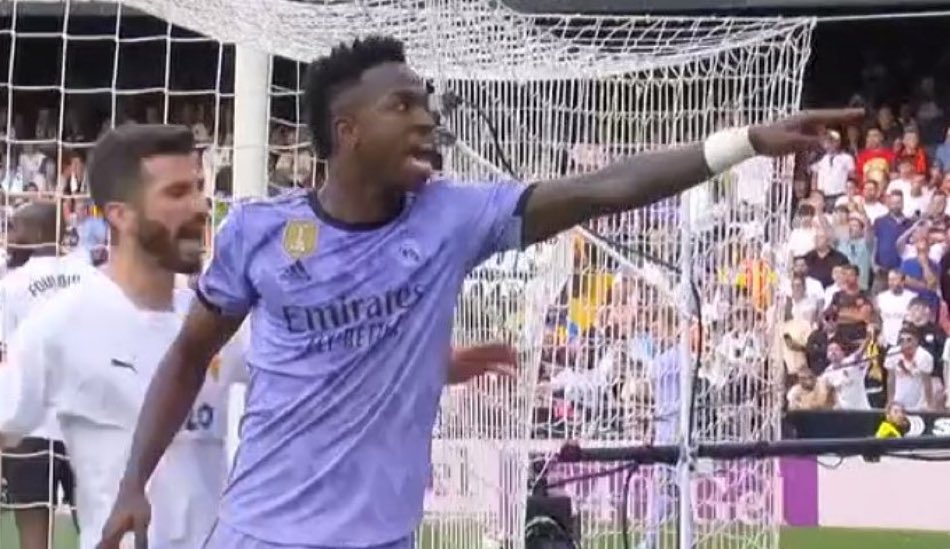 The game was paused for several minutes as the ultras were warned that the game would be suspended if the racist chants did not stop, which allowed the match to carry on.
Vinicus then was shown a red card in stoppage time when VAR pointed out that he slapped Hugo Duro, who had choked him first.
Real Madrid eventually lost to the home side who have been struggling with relegation battle.
Vinicius' reaction
"I don't want to play anymore," the cameras caught him say as they focused on the protagonist of the story.
"That one, that one," the Brazilian continually repeated as he pointed to the crow who those responsbile.
Jose Luis Gaya, captain of Valencia, is the player who talked the most with Vinicius after what happened.
He asked for explanations and the Brazilian told him what he has had to put up while there is a barrage of objects thrown from the stands.
After the game, Vini post a message on his instagram:
"The prize that racists won was my sending off. It's not football, it's La Liga."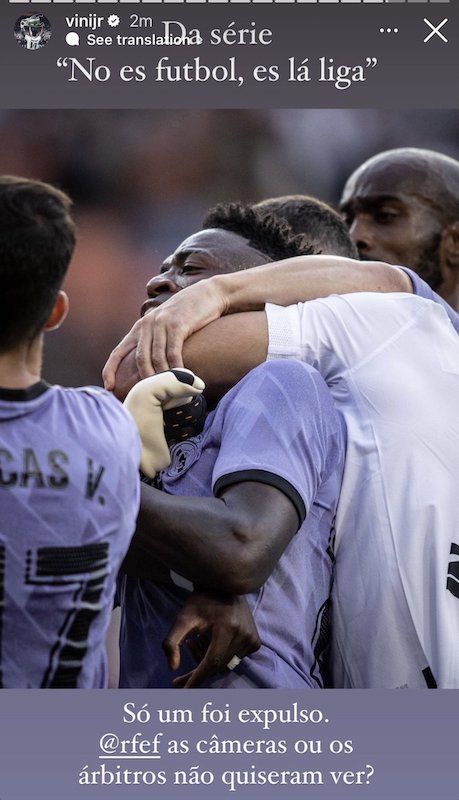 Valencia at risk of being punished
FIFA's recently changed the disciplinary code which allows referees to suspend a match for such incident of racist, and can even forfeit the match to the offending team.
So, Baraja's team could have been affected with the racist insults toward Vinicius, even though it was from a tiny section on the stands.
"Except in exceptional circumstances, if the referee orders the definitive suspension of the match for racist and/or discriminatory conduct, the defeat shall be declared by abandonment or withdrawal," the rules from FIFA state clearly.