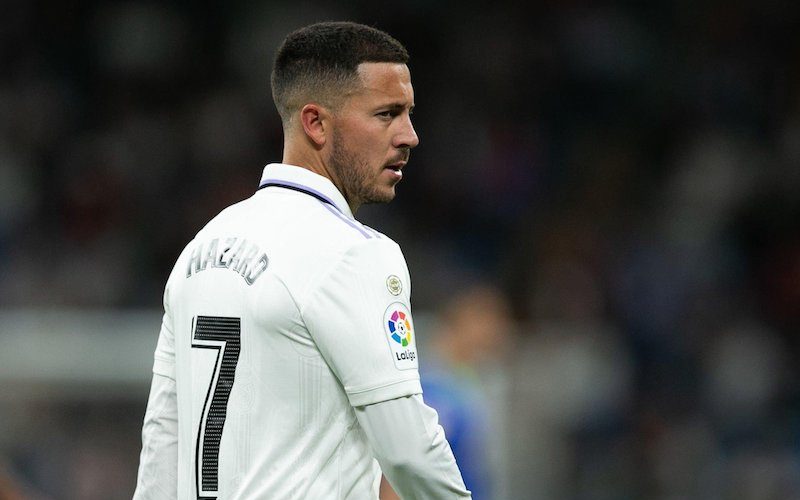 Eden Hazard leaves Real Madrid with retirement an option
Eden Hazard will leave Real Madrid after the season with a year left on his contract and will consider retirement.
It is a week full of departures from Los Blancos, with Mariano Diaz, Marco Asensio and Hazard part ways.
Read more on Madrid's transfer news
Eden Hazard officially leaves Real Madrid
The Belgium's 4-year-spell with Madrid ended, the club confirmes.
Hazard, who had one year left on his contract, is said to give up half of the sum of 14 million euro that he is due to receive as a nice gesture for the club.
It was an disappointed move for the Chelsea legend, having joined in 2019 with a record fee of USD 236 million.
He could never recreate the peak forms with Chelsea when he played only 76 games with Real Madrid, assisted 12, scored seven, missed 78 games due to injury, but eventually, he won eight titles with the Spanish club.
SIGN UP ON M88 MANSION TO GET YOUR LALIGA FIX WITH A SINGLE CLICK!
"Real Madrid and Eden Hazard have reached an agreement whereby the player will leave the club as of June 30, 2023," a statement from the club confirmed.
"He has been part of our club for four seasons, during which time he has won eight titles: one European Cup, one Club World Cup, one UEFA Super Cup, two LaLiga titles, one Copa del Rey and two Spanish Super Cups.
"The Club would like to express our affection to Eden Hazard and we wish him and his family the best of luck for the next stage of his career."
The end of a 4-year spell in pain
The Chelsea legend arrived in 2019 in a move that should have been the perfect replacement for Cristiano Ronaldo.
But, nothing went as expected as he arrived out of shape, didn't settle until October and in November an injury against PSG from teammate Thomas Meunier that caused him fitness problems.
He had surgery and never came close to being an elite footballer again, as he himself and coach Carlo Ancelotti have recognized.
His departure will pave ways for Los Blancos to save huge amount of salary, while gives them space to sign more players for the squad.